We'd like to congratulate Jennifer Boyle, member of the OBRI Patient Advisory Committee, on her Ontario Medal of Good Citizenship! The award, presented by the Honourable Elizabeth Dowdeswell, Lieutenant Governor of Ontario, in Toronto on Thursday December 1st, was awarded to Jennifer for her exceptional volunteer work and contributions to improved quality of life in the community and province.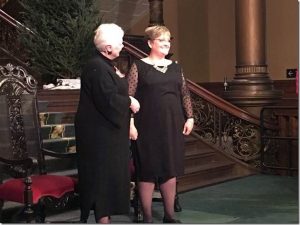 Jennifer Boyle is an arthritis patient advocate and volunteer for numerous arthritis-related research and educational programs. She has been involved in the Patient Partner in Arthritis program since 2000 and is a health mentor in the Inter-professional Education Program for the University of Toronto, Faculty of Medicine.
As a patient advocate, Jennifer is a member of the OBRI Patient Advisory Committee (PAC) and the Psoriatic Arthritis Research Program at the Toronto Western Hospital. As a person living with psoriatic arthritis, she brings an invaluable patient perspective to the research teams and organizations she collaborates with. She has been a research volunteer for The Arthritis Society since 2008 and was awarded the 2013 Ontario Volunteer Impact Award for her work in research, education, and knowledge translation.
Since being diagnosed with psoriatic arthritis over two decades ago, Jennifer has been an advocate for arthritis education, research, and the inclusion of patients in arthritis research. We are very excited to see Jennifer receive the Ontario Medal of Good Citizenship in recognition of her hard work and dedication!