On International Women's Day on March 7, 2019, Dr. Claire Bombardier (OBRI principal investigator) was recognized by The Arthritis Society (TAS) as one of Canada's Leading Women in Arthritis research.
Dr. Bombardier is the inaugural recipient of a lifetime achievement award and the Arthritis Society's Gala honouree. Her reputation is recognized on an international level for her achievements in the field of rheumatology.
In addition to being the OBRI Principal Investigator, she is also a Senior Scientist at the Toronto Research Institute and former Co-Scientific Director at the Canadian Arthritis Network.
Catherine Hofstetter, Chair of the OBRI Patient Advisory Committee, was also recognized during the Gala honouring the Canadian trailblazing women who have made an impact on arthritis research and care.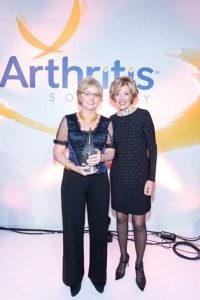 Dr. Claire Bombardier with Janet Yale, Arthritis Society (Canada) President & CEO. Photo courtesy of The Arthritis Society.